The Jostedalsbre Icecap Ski Traverse
To cross main land Europe largest icecap on skis is the most iconic multi day ski tour in Norway. Join us for a three-day adventure over the roof of Norway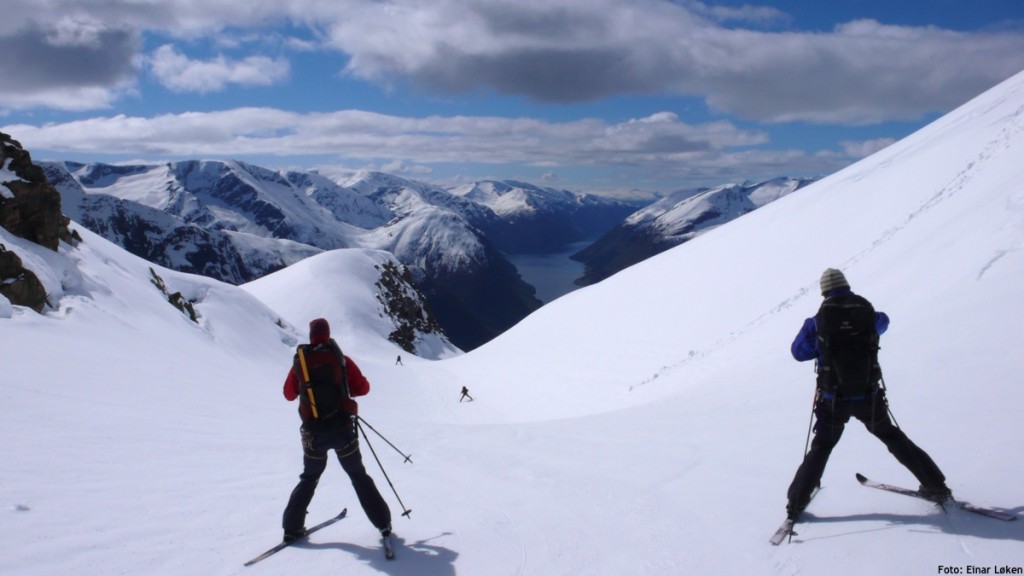 This trip is a must for all Norwegian ski mountaineers. It involves hard work as you need to carry your own food and camping gear, but the effort is rewarded with breathtaking view of mountains of southern Norway. The Jostedalsbre Icecap separate Eastern and Western Norway. In the north east we have the valley of Ottadalen that belongs to Eastern Norway, and in the South East we have the valley of Jostedalen that extends to the Sognefjord. In the West the Icecap borders to the Fjordane region.
Day 1
The first day is rather a hard climb, but in return you have covered most of the ascent. We start in Erdal in the morning. We overnight in Stålskaret close to Lodalskåpa.
Day 2
This day we start to cross the glacier plateau. When the weather is nice you have a fantastic view to the fjords and Jotunheimen National Park.
Day 3
On the third day we pass Bings hollow, a fascinating wind phenomenon where the glacier is at its narrowest. From there it is all downwards to Flatbrehytta cabin, and the a steep descent to Fjærland and a green fertile spring.
Alternatives
If the weather and/or snow conditions is bad, or any participants have problems, it is possible to choose a delayed start closer to Fjærland.

Highly qualified guides
All Breogfjell Mountain Guides are qualified IFMGA Mountain Guides (called "Tindevegledere" in Norwegian) or approved in Norway by Norsk Fjellsportforum. They also know the area like their own pocket. For ski mountaineering we only use IFMGA certified guides or aspirant guides.
---

---
This could be the adventure you seek
You must have good skiing skills and good physical shape. You must carry your own tent, sleeping bag, food etc. The snow conditions can be variable. You must still ski on glaciers and in potentially dangerous avalanche terrain.
This trip requires lightweight pack strategy! Do not bring more than what is on the list. Glacier and camping equipment can be borrowed by Breogfjell if noticed in advance.
Backpack, 60-80 liter
Nordic backcountry skis (with NNN BC binding or 75 mm binding)
Skins
Skiboots
Poles
Shovel
Camping equipment – individual
Sleeping bag
Matress/insulating pad
Camping equipment – for teams of two to three. Individual participants will be organised by Breogfjell (tents and stoves can be rented from Breogfjell)
Tent suitable for winter use (4 season)
Stove and pots
Matches and lighters
Fuel (gas canisters, gasoline)
Food for three days
Glacier equipment (can be borrowed by Breogfjell)
Harness
2 screw carabiners
1 carabiner
1 prusik sling (6 mm)
1 120cm webbing- or ropesling
Clothing
wind/waterproof shell
gloves / mittens / hat (wind and waterproof)
Socks (inkl. spare)
insulating underwear (wool)
insulation midlayer (wool, fleece or thin down west)
insulation jacket (down, primaloft or wool)
Annet
Sunglasses and goggles
Sunblock (strong!)
Headlamp
Toothbrush etc. (inkl. toiletpaper)
Wipes (for washing hands)
Personal medicine
Camera
Bottle / thermos
The guide brings
Small repair kit
First aid kit
Emergency bivouac
Glacier rescue equipment
GPS, map and compass
Food and water
You should be able to carry about 2 liter of water every day. We get water from melting snow on the stove.
We recommend oat porridge for breakfast. For lunch, the easiest is to prepare a pack of sandwiches in advance for each day  and supply with nuts, chocolate and other snack that you prefer. Cured meat and sausages is a favourite. For dinner the easiest is to bring freeze dried meals that just require hot water. You need a decent stove for cooking food, like MSR Dragondly, Primus Omnifuel or a Trangia set with a Gas burner. If you only intend on boil water and smelt snow, a dedicated water cooker like MSR Reactor or Jetpack is recommended.
Sleeping out
The temperature can creeps well below 0 C at night, so bring a sleeping bag that can keep you comfortable down to -10 C. The effect of a down jacket can be calculated if you want to bring a light as possible sleeping bag. A good insulation mat is also essentioal. We often prefer to bring two. The tent need to be suited for use on snow and to wear of a storm. Tunnel or dome tent with storm mat is preferred.

You need to get yourself to Loen. Return in minibus from Fjærland to Loen is included in the package.
Booking
You will receive a confirmation by email after submission of form.