Sunnfjord Haute Route
Haute Route Sunnfjord Route is a three-day ski touring route that has become Sunnfjord's own Haute route. It offers you over 4000 delightful meters of altitude in the heart of Sunnfjord.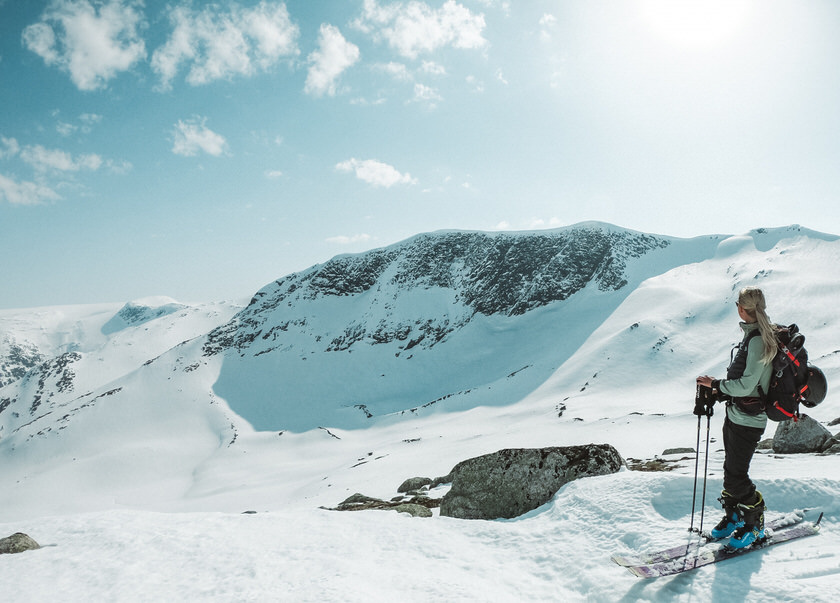 Sunnfjord Haute Route has become a phenomenon, and the journey will be conducted with IFMGA guides, accommodation, and meals along the way. The first day starts at Jølstraholmen Camping, which offers excellent year-round accommodation and is a regular host for skiers on the Sunnfjordruta. They know how to give you the best start to the journey and assist with transporting luggage to the next stage, where you will stay at Kjøsnes Holiday Cabins. At Kjøsnes, you will reside in spacious and modern holiday cabins with a beautiful view of Jølstravatnet and the surrounding mountains.
You also have a short distance to a variety of fantastic summit hikes. It's only a few minutes to the starting point for great summit hikes in Dvergsdalsdagen, including Olahansfjellet, which offers a view experienced on the first day of the Sunnfjordruta. On the first day, you have ascended Salsegga on the south side of Jølstravatnet and discovered excellent Sunnfjord snow on the way down to Kjøsnes. On the second day, you traverse Storaksla to the local giant Bjørga before skiing down to Stardalen Hyttegrend. The next day, you will tackle Snønipa, satisfied with good hospitality, scenic views, and powder skiing.
This could be the adventure you seek
You must have good skiing skills (able to ski controlled downward) and good physical condition. We therefore strongly recommend lightweight apine ski touring equipment.
Arrivalday – Jølstraholmen Camping
The first day we use to get to know each other a bit, have dinner together, plan the trip, pack and prepare our backpacks and equipment. All the extra stuff that won't be needed on the trip is left behind here. We have a talk about the journey, look at the map a bit, and relax before crawling into bed.
Day 1,  Dvergsdalen- Salsegga – Sægrov – Kjøsnesfjorden
Approximately 9 km on skis with an elevation gain of 800 meters. The trip starts in Dvergsdalen and goes over Salsegga, then continues skiing down to Kjøsnesfjorden. The view from the top is outstanding, with high mountains and deep fjords wherever you look. We also have time for a slightly longer lunch if the weather allows.
Dag 2, etappe Skei – Soraksla – Bjørga – Befringsdalen – Stardalen
Approximately 22 km on skis with a 1300 meters ascent. The first stage is into Skei, either by car or boat. From Skei, we go up a gravel road to the snow line, where the ascent to Storaksla begins. This is a long day where you maintain a steady pace. At the same time, the terrain is exciting with a lot of variation, and, not least, an incredible view from Tortnegrøegga, overlooking both the Jostedalsbreen, Myklebustbreen, and Grovabreen glaciers.
Dag 3, etappe Stardalen – Veiteberg – Snønipa – Haugadalen – Stardalen
Approximately 22 km on skis with a 1500 meters ascent. Today's goal is Sunnfjord's jewel and highest peak, Snønipa. The trip is long and partly goes over a glacier. Here, a harness and rope are needed for parts of the journey. Once back down, transportation is provided back to Jølstraholmen, followed by the journey home.
Highly qualified guides
All Breogfjell Mountain Guides are qualified IFMGA Mountain Guides. They also know the area like their own pocket. For ski mountaineering we only use IFMGA certified guides or aspirant guides.
This trip requires lightweight pack strategy! Do not bring more than what is on the list. Glacier and avalanche equipment can be borrowed by Breogfjell if noticed in advance.
Backpack, 40 liter (must enable to attach ski and ice axes)
Randonèe or telemark skis with skins (preferably tech bindings)
Skins
Ski crampons
Ski boots
Poles
Glacier equipment (can be borrowed by Breogfjell)
Ice axe
Crampons
Harness
2 screw carabiners
1 prusik sling (6 mm)
1 120cm webbing- or ropesling
Avalance equipment (can be borrowed by Breogfjell)
Clothing
wind/waterproof shell
gloves / mittens / hat (wind and waterproof)
Socks (inkl. spare)
insulating underwear (wool)
insulation midlayer (wool, fleece or thin down west)
insulation jacket (down, primaloft or wool)
Annet
Sunglasses and goggles
Sunblock (strong!)
Toothbrush etc. (inkl. toiletpaper)
Wipes (for washing hands)
Personal medicine
Sleeping liner
Earplugs
Camera
Bottle / thermos
The guide brings
Small repair kit
First aid kit
Emergency bivouac
Glacier rescue equipment
GPS, map and compass