Climb Store Skagastølstind (Storen)
Storen, as it is popularly called in Norway, is the countries third highest peak and the highest that require climbing. It was first climbed by the British adventurer and climber sir William Cecil Slingsby in 1876. It is also the highest peak in the Hurrungane group, the highest alpine mountains in Norway, which offer several other beautifull climbs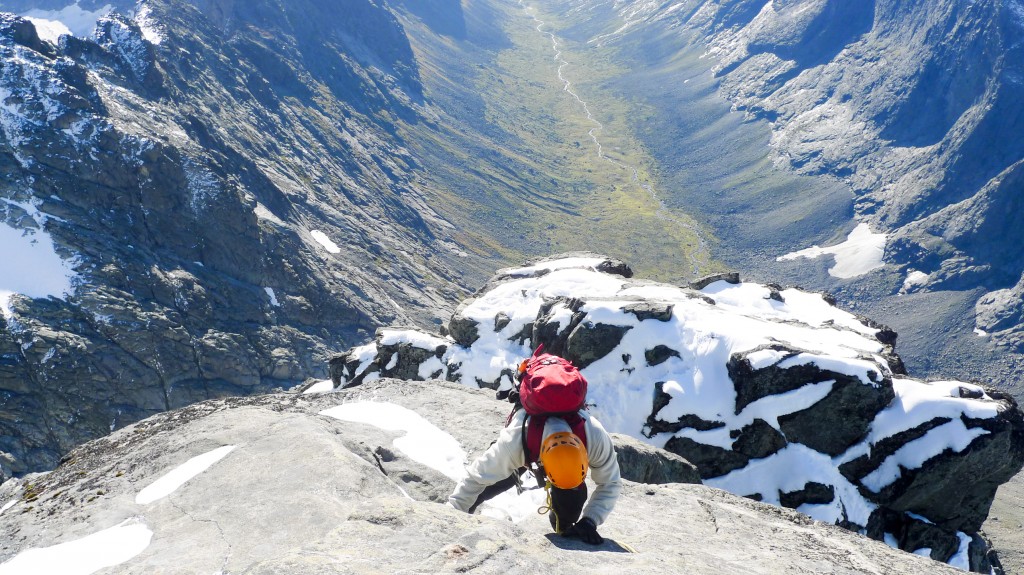 Physical requirements
Even though the the climbing is not technically difficult, it is long and strenuous. The ascent is 1600 meters, and the duration is 12-14 hours.  Clients therefore need to be fit and have experience with mountaineering. In addition to four pitches with grade IV and III climbing, the climb includes easy scrambling, one glacier crossing and ascent and descent of steep snow fields.
If you are uncertain about your own climbing skills, we reccomend a half day climbing course before the summit day.
The climb
The climb starts at Turtagrø hotel at 865 m.a.s.l. For two hours it follows a well established trail up the Skagastøls valley, passing the Norwegian Alpine Clubs cabin at 1200 m.as.l. Then it crosses the easy Skagastølsbreen glacier before ending up in the col between Søndre Dyrhaugstind and Storen, at 170o m. a. s. l. From here the steepness increases. We follows steep snow fields on the south-west face of the mountain, before encountering the "Slabs", where we need to do two pitches of climbing (grade II). Then the terrain eases until we get to the "Corner", were we traverses a ledge, the "Gallery" out in the south wall of the summit (II). Then the there is a short, steep pitch with grade IV climbing, through the routes "Vigdals slab" or "Heftyes gully".  Followed by three short and easy pitches to the summit. The retour includes a 40 meter abseil down to the corner.
Guide qualifications
All Breogfjell Mountain Guides that take clients on alpine climbing routes are qualified IFMGA/UIAGM/IVBV Mountain Guides (called "Tindevegledere" in Norwegian) or aspirant guides. They know the area like their own pocket, and they also speak English.
wind/waterproof shell
gloves / mittens / hat (wind and waterproof)
insulating underwear (wool)
insulation midlayer (wool, fleece or thin down west).
30-40 liter backpack
sunglasses and sunscreen
food and drinks (you can fill water en route)
headlamp (if climbing later than August)
Climbing equipment (can be borrowed from Breogfjell):
Ice axe
Crampons
Harness
2 screw gate carabiners
Belay device
1 120cm webbing- or ropesling
Lodging
There are several opportunities nearby. It is free to pich your tent except right outside lodges. Then you have the Sognefjellshytta 15 minutes away, the grand Tørvis Hotel 40 minutes away or you could stay at Turtagrø hotel.
Food
Bring your own lunch pack and energy bars.
The price does not include lodging and food.
You can take a bus from Sogndal or Lom to Turtagrø in the season, check www.kringom.no for schedules. To reach Turtagrø by car takes five hours from Oslo, four from Bergen and one hour from Sogndal.
Booking
You will receive a confirmation by email after submission of form.