Alpine Climbing Course (6 days)
This course combines travel on blue ice and snow-covered glaciers, rock climbing with traditional techniques and companion rescue. The course will give you a full introduction of how to travel in alpine terrain.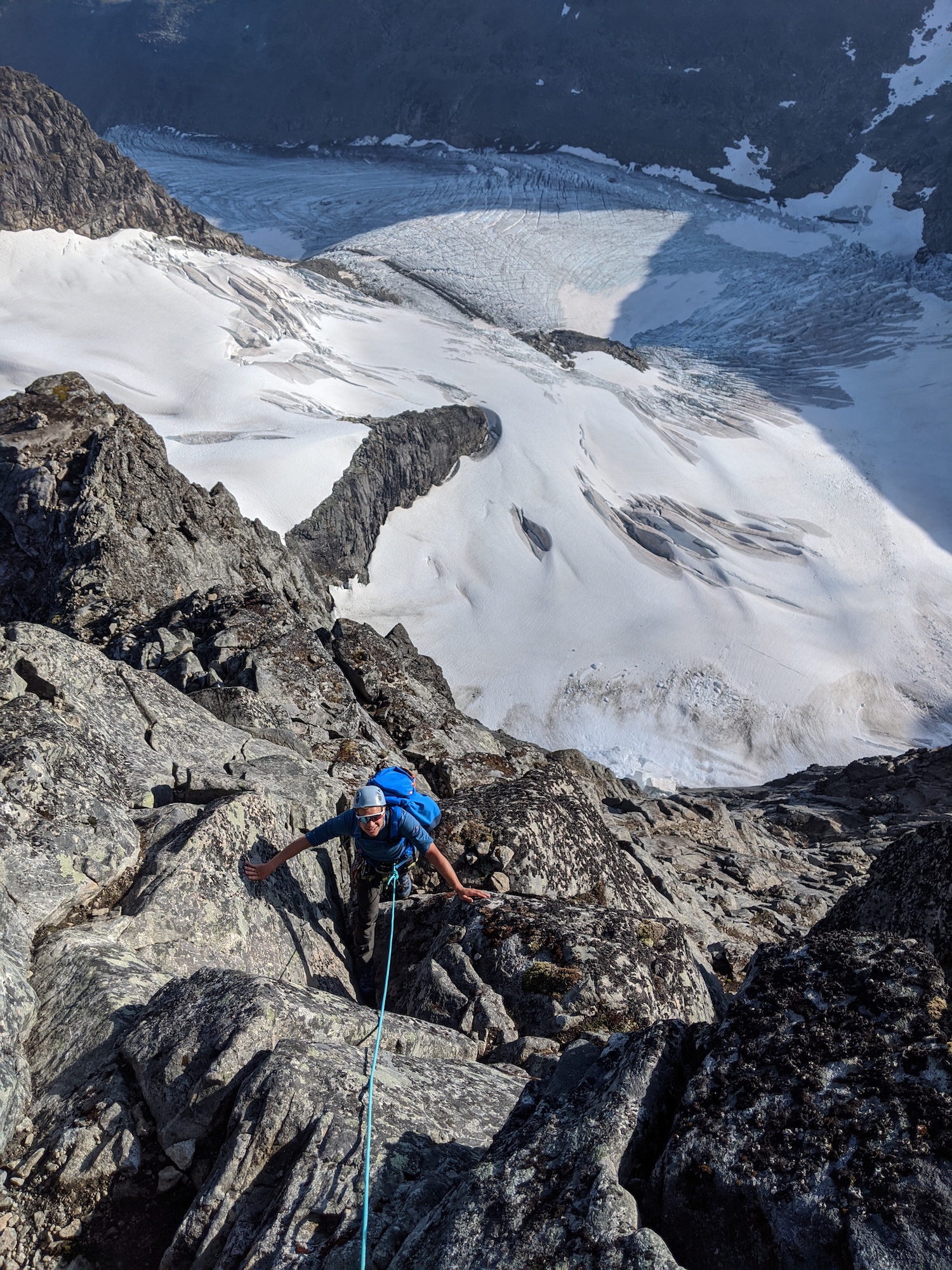 This could be the right course for you.
You don't need any prior knowledge of climbing or glaciers to participate in this course, but you should be in decent physical shape and enjoy being outdoors in all kinds of weather. As much as possible, we aim to tailor the course to the participants' preferences.
The goal.
The alpine course consists of glacier walking and mountain climbing. This course provides an introduction to what it takes to navigate alpine terrain. We will cover everything related to safety procedures, familiarity with equipment, choices and use of gear, and teamwork with ropes. Throughout the course, there will be tailored excursions based on your level, allowing you to have the energy to focus on safety and practical tasks. The course aims to establish routines that ensure optimal safety during climbing and glacier walking. This includes raising awareness of the challenging conditions we may encounter in alpine terrain.
The course is practical, and we will strive to cover most of the theoretical aspects outdoors. However, a few evenings will be dedicated to indoor sessions.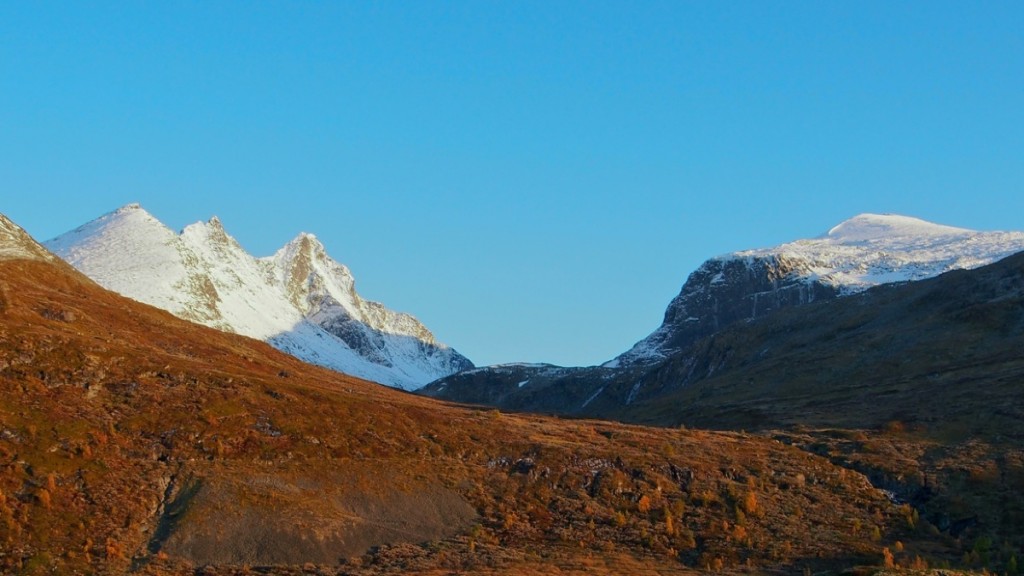 The Area of Sogn and Jotunheimen.
Jotunheimen, established as a national park in 1980, is a stunning and expansive mountainous region in Norway. This diverse landscape ranges from the dramatic peaks of Hurrungane in the west to the vast valleys and mountain lakes characteristic of the east. Here you also find the highest mountain pass in Northern Europe, Sognefjellsvegen (The Sognefjell road)
The Smørstabbreen glacier at Sognefjellet is surrounded by magnificent mountains such as Storebjørn, Veslebjørn, Smørstabbtinden, Kniven, Saksi, and more. There is plenty to explore here. Additionally, we will use the climbing area in Sogndal for an introduction to climbing.
We are partners with Turtagrø Hotel and use it as a base for our activities in Hurrungane. From a bed at Turtagrø, it is a short way to many of the most spectacular peaks we climb. The hotel offer rooms and beds for those who appreciate high standards and comfort, as well as more basic standard rooms for those who just need a bed for the night. The hotel also has excellent dining that has satisfied hungry mountaineers since the 1800s.
Certified and experienced guides.
Breogfjell is one of the operators in Norway that sets the strictest requirements for certification, experience, and local knowledge. In our alpine courses, we only use internationally certified Mountain Guides (UIAGM/IFMGA), Mountain Guides in training/apprentices, and NF-approved climbing and glacier instructors who can demonstrate solid experience over several years in challenging ski, climbing, and glacier trips.
Day 1
Course opening and introduction round. Review of equipment and knots. We will become familiar with standard glacier equipment. Throughout the day, we will be on the blue ice of Nigardsbreen, practicing walking techniques with and without a rope, tying in, and route selection. Various ice rescue methods will also be covered. Evening session: Review of the day's topics and experiences. Travel on snow-covered glaciers. Orientation and route finding on the glacier.
Day 2
This day involves travel on snow-covered glaciers, practicing route selection and rescue. Participants will have the opportunity to lead rope teams themselves. What we learn on this day may be useful later in the course. Evening session: Review of the day's topics and experiences. About climbing.
Day 3
This day takes place in Kvam in Sogndal. We will practice rappelling and then engage in top-roping to become familiar with the use of belay devices and to become comfortable with climbing movements and equipment in general. The goal is to provide participants with a thorough overview and practice in rappelling and top-rope climbing.
Rappelling with a backup prusik knot Top-roping: Practice on protection and a lot of climbing. Rappel anchor: Clarification of a secure rappel anchor. Instructor sets the anchor. Anchor station: Practice getting in and out of the anchor station and anchor station routines.
Evening session: Review of the day's topics and experiences. About rope team climbing, leading, and anchor stations. Next day.
Day 4
This day is dedicated to climbing a multi-pitch route in Smørstabbtindane. This will be a proper tour, including a glacier crossing.
Multi-pitch climbing. – Route selection in alpine terrain Practice anchor station routines
Evening session: Climbing history and Norwegian outdoor traditions. Trip planning for the next day.
Day 5
This day also involves a longer climbing route. Repetition of rope team routines. Ensure that participants know the basic safety procedures. Evening session: About companion rescue. Next day.
Day 6
Companion rescue and leading on personal protection in Kvam in Sogndal.
Participants will give an introduction to the most basic companion rescue methods. Climbing on a rope using prusik knots Unbinding a belay device and untying a rope Possibilities for leading with protection or leading with the guidance of an instructor. Summary of the course and evaluation.
Most course days take place in the high mountains, so be prepared for changing weather conditions and temperatures. Friday and Saturday can be long days with many kilometers and significant changes in altitude.
The course structure may vary beyond what is outlined here. The course leader may change the order of topics for various reasons, but this is generally the content that will be covered in the course.
For this course, you will need the following equipment:
Wind and waterproof outerwear
Fleece sweater or thick wool sweater
Long underwear. Wool can be good to have closest to the body when we'll be outdoors a lot and at rest.
Mittens, hat, scarf
Sturdy mountain boots/Alpine boots
Backpack suitable for climbing
Even though it's summer, we may experience both snow and sleet. Therefore, dress as if you were in winter mountains.
For climbing and glacier equipment, you will need:
1x Sit harness and chest harness
3x Screw carabiners
2x Single carabiners
1x Belay device
One climbing rope per participant. (This should be 45-60 m, single rope 10-11 mm or half rope 8.2 – 9 mm)
Helmet
2x long slings (Preferably two 120 cm slings, possibly knotted from 9mm rope)
2x prusik cord sling (6-7 mm cord, approximately 40 cm pre-tied)
Climbing shoes
1x Glacier travel ice axe
1x Crampons
Most of this equipment can be borrowed from Breogfjell, but we cannot guarantee that we have climbing shoes in your size. If you have your own equipment, we would appreciate feedback on this and what you might need to borrow.
Map:
Turkart Vest Jotunheimen 1: 50 000 and/or Sygnefjell 1: 50 000
On this course we recommend that you stay at Turtagrø Hotel.