A week skitouring in Loppa
This is a new product in our winter program: An exclusive skitouring experience in the mountain and fjords in the "alps" in Finmark. We have discovered a skitouring paradise in Bergsfjord in Loppa. This is a hidden gem with no road access, but endless possibilities for skitouring, fresh fish for dinner and a steaming tub under the northern light.
A hidden gem
Join us for a week with skitouring in Bergsfjord. The name "Bergsfjord" describes a small place in the middle of both mountains and fjords. Here, mountains perfectly suited for skitouring is found in all directions. There are no roads going to Bergsfjord. The only way to get here is by boat.
This is a hidden, and relatively unknown skitouring paradise. It is not crowded, and you may very well get to ski the first turns down the untracked snowpack. If you are lucky, you might even get to ski places that nobody has been before. It`s not many people living in this area.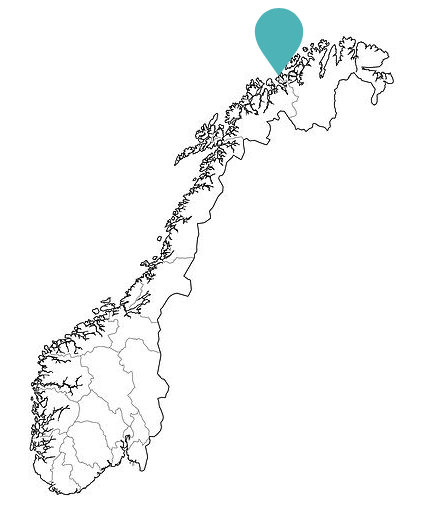 The Lodge
We are living in Bergsfjord Lodge. The lodge was opened in 2018 and is located in the center of the small village. It is run by skitouring enthusiast and carpenter Morten Christiansen, who has re-build and designed the lodge himself. This is an all-inclusive concept but be prepared to take part in the cooking. Together with Morten we will create a nice atmosphere where we all can feel like home. We will enjoy good food and drinks, and if you like we can start up the outdoor hot tub after dinner. Northern light is common in this area so be prepared for a beautiful show.
The Skiing
Finmarksalpene (the alps of Finmark) offers ski terrain for all preferences and levels of experience. You can choose from wide open flanks on large glaciers to more steep and exposed terrain. We either ski directly from the lodge, or we go by boat in some of the nearby fjords. The boat will pick us up in the afternoon and drive us back to the lodge. Often, we decide to ski down a different side of the mountain. We have full flexibility, and the boat will pick us up wherever we want. This gives us great opportunities to find the best snow conditions. We often use the evenings to study maps and pictures in the living room and together decide on the goal for the next day.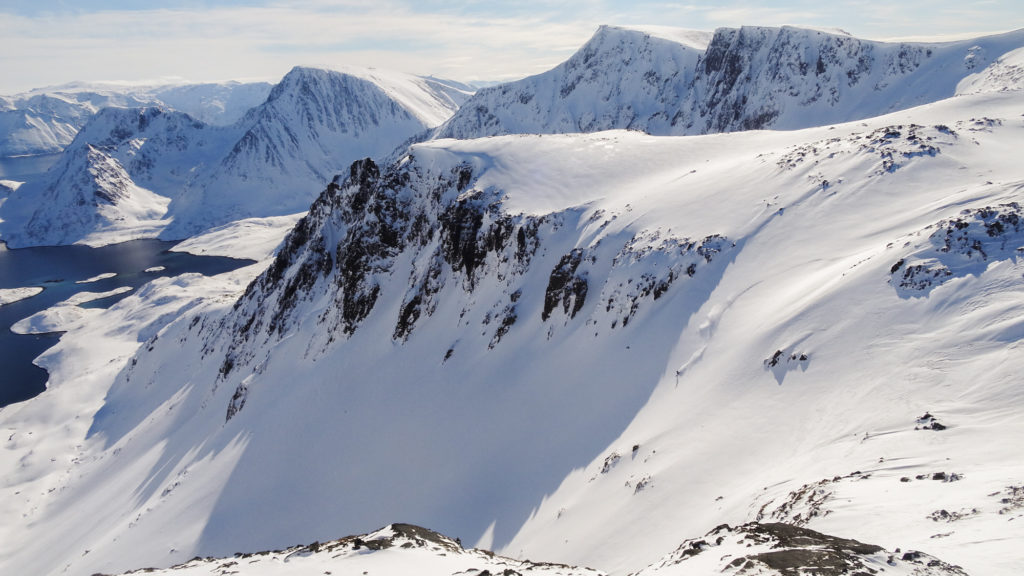 High competence guides from Breogfjell
We in Breogfjell require the highest formal competence and certifications from our guides. We always use internationally qualified mountain guides (UIAGM/IFMGA, qualified or under qualification). All our mountain guides have several years of guiding experience, both in skiing, climbing and glacier hikes.
Day 1: Arrival day
Morten will prepare a nice dinner, and we can relax at the Lodge after a long travel. In the evening, the guide will give some tips and advice on the different trips in the area and the current snow conditions. The guide will also go through some safety instructions. Together we decide the goal for the next day.
Day 2:
We start the day with a nice quiet breakfast. Often, we ski directly from the Lodge to the summit of Gullmindsting (945 masl) the first day. This is a shorter trip which offers a fantastic view and high-quality skiing all the way down to the lodge. Back in the lodge we will prepare dinner together and potentially end the day in the hot tub outside in the northern light.
Day 3:
This day we often take the boat into a different fjord for some nice sceneries and to hunt for some good snow conditions. The weather and snow conditions will decide where we go skiing. Our guides have very good competence and experience in reading the terrain and finding nice and safe snow. We might do some fishing from the boat on the way back to the lodge. Who knows, we might catch some cod or maybe even halibut for dinner?
Day 4:
Destination depends on weather and snow conditions.
Day 5:
Destination depends on weather and snow conditions.
Day 6:
Destination depends on weather and snow conditions.
Day 7:
Destination depends on weather and snow conditions.
Day 8:
We might do a short trip in the vicinity of the lodge before the boat picks us up and we head back home.
Different activities if we decide for a resting day
Fishing trip in the fjord – The fishing is outstanding in Bergsfjord both for cod and halibut fishing (price is not included)
A visit to the fish factory where the locals delivers their catch of the day
A visit to the local grocery store. Sit down and have a nice talk with the locals
Bergsfjord is located on a peninsula with no road connection. The closest airport is located in Alta. From Alta you can take the bus (or car/taxi) to Øksfjord. From Øksfjord you can take the ferry to Bergsfjord. Take contact if you need some help to book tickets. We are more than happy to help!
Breogfjell can provide both glacial and avalanche safety equipment. Note that we need the information in advance.
Backpack, approximately 40 liters – Needs to be able to attach your skis to the backpack
Ski equipment (skis, ski boots and poles) – Alpine touring skis (Randonèe) or telemark skis (not too heavy equipment is advised)
Climbing skins
Ski-crampons
Glacier safety equipment (ice axe, crampons, harness)
Avalanche safety equipment (avalanche beacon, shovel and probe)
Clothing:
Jacket and trousers – Wind and waterproof
Gaiters (optional)
Hat, gloves, mittens (wind and waterproof)
Socks – including spares
Isolating undergarment
Isolating mid layer garment
Down or primaloft jacket
Personal belongings:
Sun glaces and goggles
Sun cream
Water bottle or "camelback-system"
Camera
Personal medicines if needed
The guide will bring the following:
Tools for small repairs
First aid kit
Bivi-bag
GPS, map and compass
Booking
You will receive a confirmation by email after submission of form.